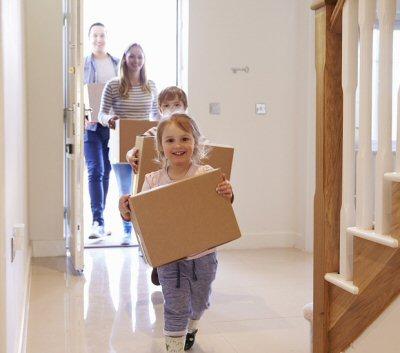 Here at Warners Moving & Storage, we're the movers with decades of experiences helping families with their move in York, PA and far beyond. So we've learned a few things about how families handle the challenges. Moving day is daunting even for the most organized and energetic, and it is often the most difficult for kids. You might not believe that it can be an experience you'll remember fondly, but it can be. Here are some tips from seasoned parents who have made it work.
Use the Move as a Lesson in Giving
If your kids are typical, there will be toys that have not been touched for perhaps years. If you explain that these forgotten toys could bring joy to a child who doesn't have as much and suggest donating, chances are good that the kids will agree. Then while you pack, they'll spend their time deciding which toys to keep and which to give away. The bonus – it will also lighten the packing load.
Explore the New House and Neighborhood Before Moving Day
I'm sure it's no secret to you that kids can become difficult when they're uncertain about where they are going to be next. A visit to the new home before moving day reduce their anxiety; but if that's not possible, then sharing pictures is helpful too – especially if they can see their new room and perhaps begin to plan how it will look once they have gotten settled. It's a bonus if you can visit the new neighborhood. Point out schools, parks and other places of interest.
Enlist Their Help With Packing
Sometimes kids get anxious seeing that all their things are packed up. If you take the time to let them pack their favorite toys in their own box which you clearly mark to be found easily, it can take the worry away. They will love being included and the chore will keep them busy and maybe give you extra help.
Let Them be Creative
Find a place out of the work area and ask the kids to decorate the boxes. If you use washable crayons, there will be no mess; and they will love the chance to create their masterpieces on these "canvases". Don't forget to praise their work and thank them for their help!
Consider a Sitter During Packing & Moving
Accept that complete the entire move while taking care of the kids just creates unnecessary stress for everyone. Don't shy away from taking the help offered by friends and family. Putting your children in trusted hands where they can be entertained and supervised gives you the kid-free hours you need to complete the move and prevents moving day meltdowns.
Pack Move-In Night Essentials Separately
Set aside one or more bags or boxes to hold the special items you'll need during the first few days after you move in. From pajamas, blankets, favorite toys, snacks, toothbrushes, an extra set of clothes for each child, and whatever else you know you'll need right away will turn the day after the move from a challenge to a pleasant memory.
Here at Warners Moving & Storage in York County, PA, we are experienced with moving households (residential moving) -- across the country, down the street or somewhere in between. We can help take the stress out of your moving day. Just contact us to find out how we can help or get a quote for our service.
---