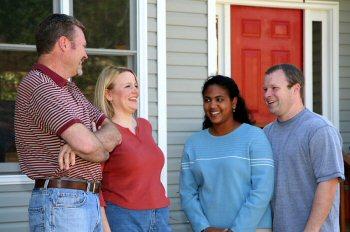 If you'll soon be moving to a new neighborhood, you might be wondering about your neighbors. In fact, might they be curious about you as well?
In years past, when someone new moved into the neighborhood, the established residents would make it a point to visit and introduce themselves as a welcome to the neighborhood. However, we are more of a transient society now, and times have changed. If you want to meet your neighbors once you've moved in, why not plan to make the first move? Here are some effective ways to reach out in the neighborhood.
Hold a Yard Sale
This is an especially good idea if you did not have time to sell off those no-longer-wanted items before your move. But now that you have identified items that you no longer want or need, you have a perfect excuse to hold a yard sale. It's a good bet that your neighbors will take the opportunity to get to know you as they browse your treasures.
For a slight twist on this concept, why not visit other yard sales in the area. You'll get to know your neighbors while exploring what's for sale. Don't know where to find the sales? Try the Yard Sale Treasure Map app for iPhone or Android to get started.
Work on Your New Home's Curb Appeal
If you're visible in your new neighborhood, then you're approachable. Getting outdoors to trim and groom existing plantings or even to add new flower beds or shrubbery is not only healthy, but it puts you in the right place for a visit from your new neighbors. Don't worry, even if you have never done yard work or gardening, you can still try this approach if you check out this site on Gardening for Beginners. Who knows… those established residents might just be seasoned green thumbs willing to offer advice and exchange ideas.
Visit the Neighborhood Park
If you have children or pets, then the local neighborhood park or playground is where you'll find other parents and pet owners. It's much easier to strike up a conversation when you have common interests – especially children and puppies. If you're not sure where to find the local parks in your area, check out Map of Play on your computer or smartphone.
Once you've connected with neighbors, it might just be a perfect time to arrange a play date, to get to know each other better.
Moving Tip
If you will be moving to a townhouse or condo community, there could be access restrictions for your moving van and/or parking guidelines for off-loading your belongings. By checking in advance and letting your moving company know, you could avoid unnecessary stress and possibly save time and expense.
Here at Warners Moving & Storage, we are always ready to work with you to make your moving experience as smooth as possible. Once you know you'll be moving, checking with us as far in advance as possible will help us to help you. Why not request a free quote today?
---